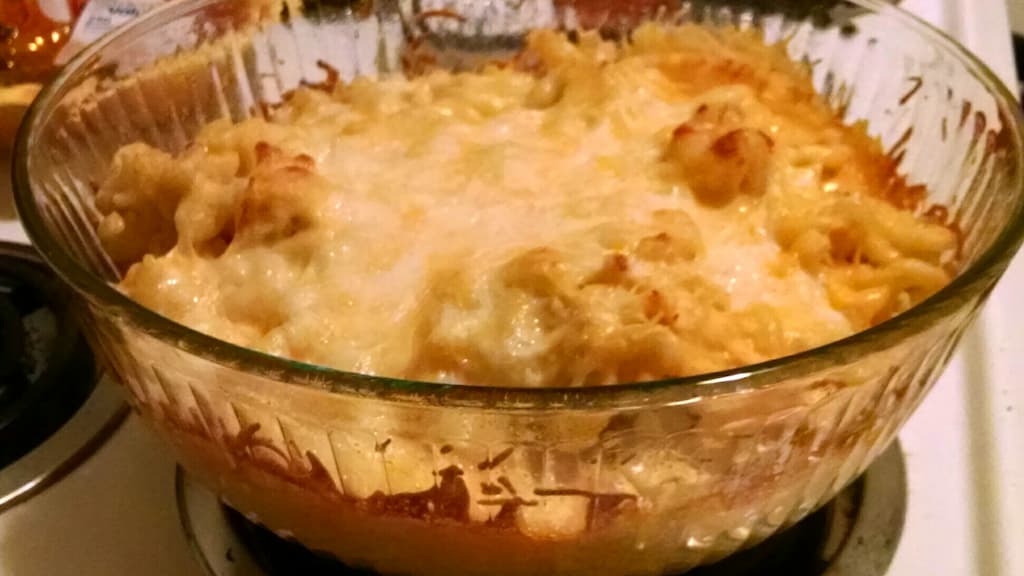 We love this baked mac and cheese recipe from our friend. It's been one we've returned to year-after-year.
WARNING: There's a lot of cheese
Ingredients
1 lb of elbow macaroni
2 8 oz bags of shredded sharp cheddar
1 8 oz bag of Colby jack/Monterey mix
1 12 fl oz. can of evaporated milk
Directions
Cook macaroni - a little under done(it will cook in oven).
Preheat oven to 375 °F (190 °C)
Drain pasta
Spray 8x8 with cooking spray.
Layer bottom with half of Mac n cheese.
Lay one bag of sharp cheddar over this layer.
Pour in rest of Mac n cheese.
Take second bag of sharp cheddar and stuff down sides of the pan.
Take bag of Colby Monterey and pour on top evening out over the top of casserole dish.
Poke hole in evaporated milk and pour over top of Mac n cheese covering the whole thing with it.
Bake for 25 minutes or until cheese is golden brown or brown or however you like your cheese.
(Optional) Sometimes I broil it at the end end for two minutes if I want a more "burnt" cheese top.
Make sure you put the dish on a baking sheet. Sometimes it bubbles up over and you don't want that in your oven.
See how responses are collected...

Respond from another site

Responses are collected from posts on other sites. Have you posted somewhere that links to this page? If so, share the link!