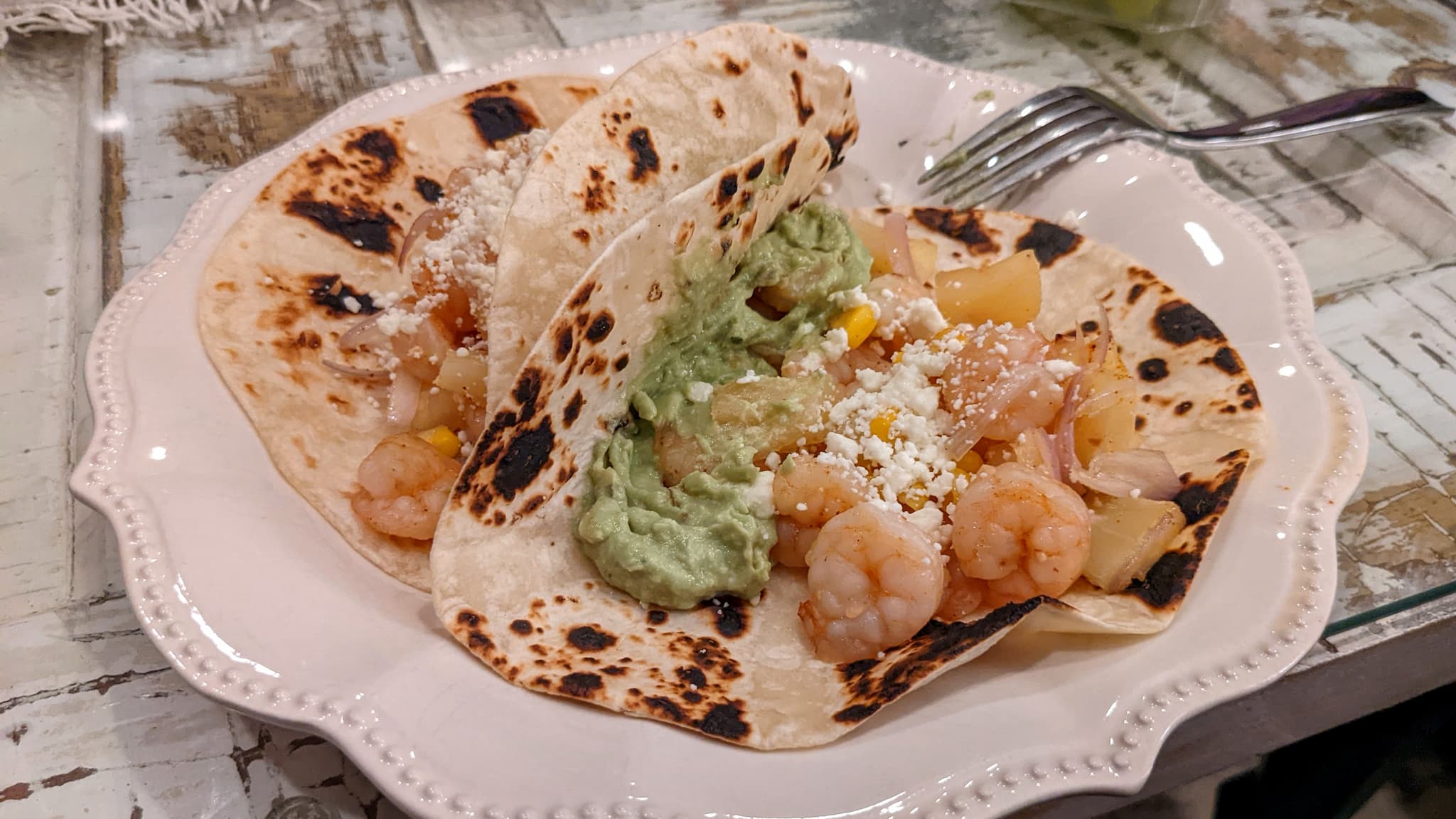 A tasty recipe modified from the Half Baked Harvest. We've toned down the spice and sometimes keep the spices separate to keep things mild for Bekah. See the original recipe for a creamy jalapeno sauce.
Summary
Prep Time: 15 minutes
Cook Time: 15 minutes
Servings: 6
Ingredients
1 1/2 pounds large shrimp, peeled and deveined
2 tablespoons extra virgin olive oil
3-4 cloves garlic, minced or grated
1 cup corn
2 teaspoons chili powder
1 tablespoon soy sauce
1 tablespoon sriracha
a pinch of salt and black pepper
2 cups fresh pineapple chunks
2 medium shallots, thinly sliced
3/4 cup cilantro
1/2 cup feta cheese
warmed tortillas
Guacamole
Directions
Preheat the oven to 425 °F (220 °C).
On a baking sheet, toss together the shrimp, pinapple, shallot, olive oil, garlic, chili powder, soy sauce, sriracha, and a pinch each of salt and pepper. Toss with 1 tablespoon olive oil. Transfer to the oven and roast 8-10 minutes or until the shrimp is cooked. Turn the oven to broil and broil for 1-2 minutes, until the pineapple has charred.
Remove from the oven and toss the shrimp and pineapple together. Set aside.
Toss together 3/4 cup cilantro, the corn, juice of 1 lime, and pinch of salt.
Stuff the shrimp and pineapple into the warmed tortillas and top with corn, cheese, and guacamole.
See how responses are collected...

Respond from another site

Responses are collected from posts on other sites. Have you posted somewhere that links to this page? If so, share the link!