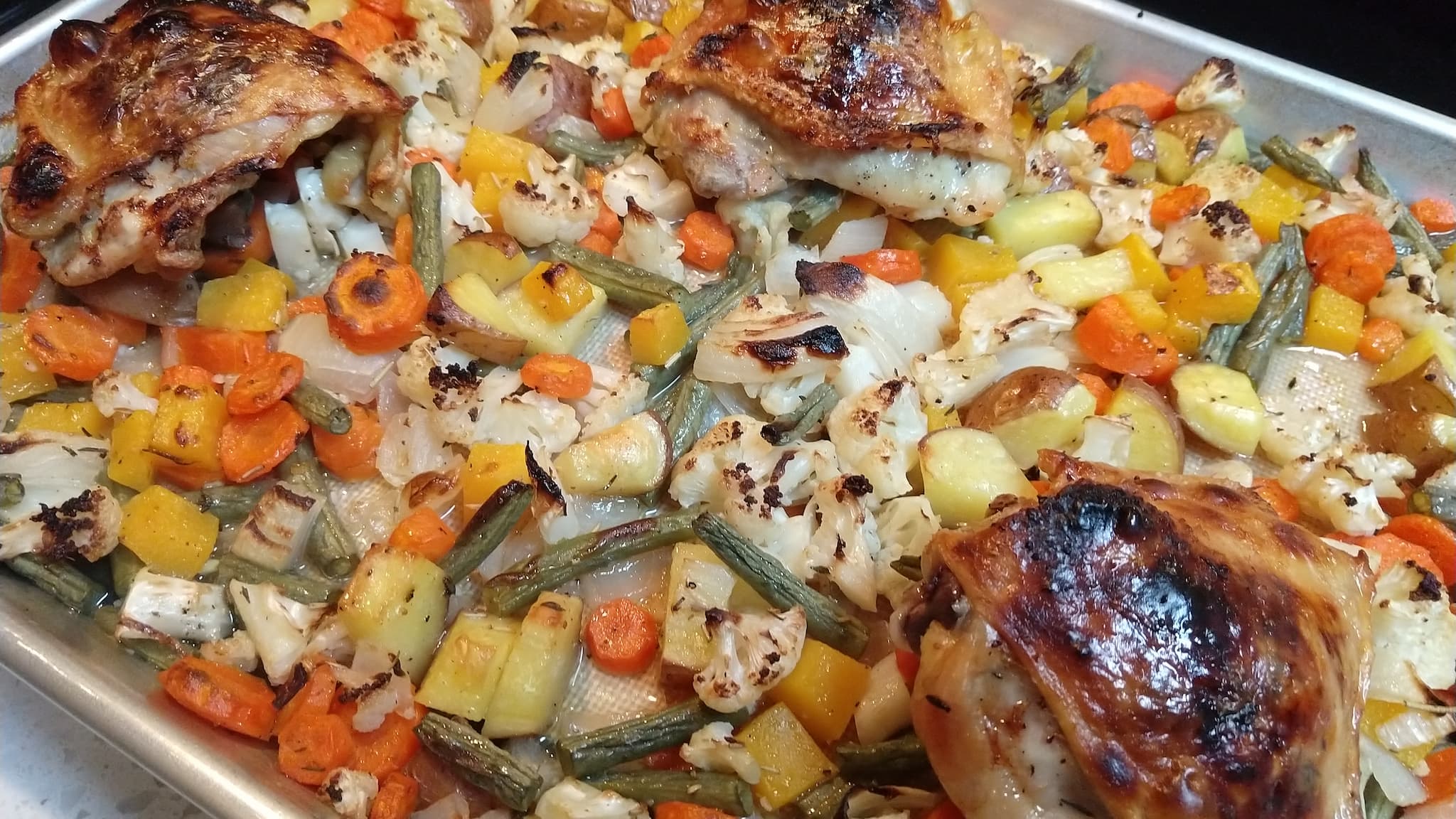 A friend shared this recipe with an over the top title, but we've made it several times now and we love it. The key is cooking the skin-on chicken on top of vegetables is a delicious combination of flavors. It's a decent amount of prep to cut the vegetables but it cooks in a single pan making cleaning easier. You can check out the original at The Lazy Genius Collective.
Summary
Prep Time: 1 hr
Cook Time: 50 minutes
Ingredients
This list is intentionally imprecise, you can adjust the amounts based on your favorite flavors. But the goal is to cover the bottom of the pan loosely with vegetables.
Recommended
Skin-on, bone-in chicken thighs
Onion
Carrots
Potatoes
Cauliflower
Green Beans
Olive Oil
Salt
Pepper
Optional
You can add additional vegetables as you like, however you'll want to avoid anything to soft that will ooze juice and prevent the other vegetables from becoming crisp (i.e. NOT mushrooms, zucchini, squash, and broccoli).
Rosemary or thyme
Lemon or orange zest
Different kinds of potatoes (e.g. sweet potatoes, red potatoes)
Different kinds of onions
Directions
Preheat oven to 500 degrees
Line a baking sheet with a silicone liner or heavy duty foil
Cut your vegetables, sizing them into roughly bite size pieces adjusted for cooking speed
Toss vegetables with olive oil, lots of salt & pepper, and whatever seasonings you'd like
Peel the skin back from the chicken (leaving part attached) and pad dry with a paper towel
Season the chicken with salt, pepper and (optionally) lemon/orange zest
Arrange the vegetables on the baking sheet in a single layer
Place the chicken skin side up on the vegetables
Bake at 500 degrees for 50 minutes
By the time you're done, the chicken skin should be crisp and the vegetables should be starting to brown.
See how responses are collected...

Respond from another site

Responses are collected from posts on other sites. Have you posted somewhere that links to this page? If so, share the link!